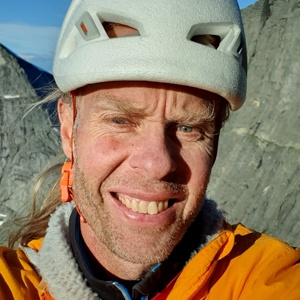 instagram.com/robertjasper_official
With his spectacular solo ascent of the three largest north faces in the Alps (Eiger, Matterhorn and Grandes-Jorasses) in record time, the Black Forest native first made a name for himself in 1991. Jasper began climbing much earlier, as a child, in the local Schlücht Valley and in the nearby Basler Jura.
Today, Robert Jasper is one of the leading extreme mountaineers, worldwide. Above all, in the extreme alpine region, in ice and mixed terrain, he was able to set new, international standards. His special passion, solo climbing, served as a way of getting to know himself and discovering the beauty of the mountains. Barely 20 years old, Jasper had already climbed more than 100 of the most difficult north-face routes of the Alps, solo; some of which were first ascents.
Today, his expeditions take him to the most remote mountains in the world; from the Everest region in the Himalayas to Patagonia. Here, he acheived the fastest ascent of the famous, Cerro Torre mountain. In Alaska, he climbed Denali (Mt. McKinley) twice on different routes, in just four days.
The famous backdrop of the Eiger north face served as the filming location for the IMAX film production "The Alps", in which Robert Jasper was one of the main actors. The film premiered in spring 2007. Robert Jasper is a state- certified mountain and ski guide, mountain guide trainer and athletic trainer. He is married to the extreme mountaineer Daniela Jasper and has two children.
Mountaineering highlights:
Spectacular solo ascents of the three largest north faces in the Alps: Eiger north face, Matterhorn north face and Grandes-Jorasses (1991)
20 Eiger north face routes, including the first free ascents of the Japanese, Harlin and Piola-Ghilini Direttissimas in 9 and 10 degrees. First ascent of the Odyssey route 10- (8a +)
Fastest ascent of the "Maestri Route" in alpine style (Cerro Torre, Patagonia) worldwide with 16.5 hours
At Cerro Murallón (Patagonia), he and Stefan Glowacz opened the route "Gone by the Wind" (IX +, A2, M5) on the north pillar in 2005, which earned them a nomination for the Piolet d'Or.
Greenland Solo Expedition 2018: 30 days alone in the wilderness, sea kayaking and climbing. Molar Spire solo first ascent of Stonecircle 9, (7c)
Numerous new tours in the ice / mixed area: Flying Circus M10 1998 (1st rope-solo 2018) and Knight of the Coconut M12 trade, Ironman M14 + (2012) and in the ice: e.g. Betablock Super WI7, travel integral WI7 in the most difficult degrees within Europe, the USA and Canada.